Being a teacher full-time and Administrator and Co-Blogger at WUC, there is something to laugh about each and every day. Plus, all of our facebook fans can probably agree, that usually on your own personal facebook pages, someone always posts something to make you laugh. Even with all those things to laugh about, I must say that I have never laughed so hard in my life as I did the day we went to Circle G Ranch. It is about 20 minutes from the heart of Pigeon Forge, but was quite easy to get to; only about 5 minutes off I-40 at Exit 407.
From their website-
Circle G Ranch is a private, licensed USDA facility.  We take pride in caring and maintaining the most natural environment to over 500 of our indigenous and exotic animals.  We dedicate our lives to wildlife conservation giving our animals over 100 acres to run freely with as much enrichment mother nature has intended.  Our goal is to share our knowledge and love for animals with the hope of educating our future generations about their importance, as well as, providing a unique and memorable experience for your family and friends.
We had no idea what to expect at Circle G Ranch. As we  turned into the driveway, the fun began. I heard a lady in a car squeeling, "Roll It Up, Roll It Up!!!" as she continued to squeal over and over, I couldn't help but wonder what we had gotten ourselves into. An emu had it's entire head and neck inside her vehicle. Her husband was throwing food out his window trying to get it to come around to the opposite side of their car.
For the first time this whole trip, I wished I was in the driver's seat. Because had I been driving, when we ventured into the Circle G Drive-Thru Safari, I would have rolled down Robert's window and locked it in place. As if reading my mind, he looked over at me and I simply said, "DON'T YOU DARE!" He knew how much trouble he would be in if he did that to me.
We pulled up to the drive-thru window, gave them our Groupon voucher for the Circle G Ranch, bought 3 buckets of feed for $10, got the map and instructions and headed out! First rule- Don't Get Out of the Vehicle! Second Rule-

Bare with me. This post is going to be filled with pictures and some are not very good because I was laughing so hysterically that I could not focus the camera. As I told my personal facebook friends, I have never heard my husband scream in such a high pitched voice as I did today. If he was looking on my side of the car, another animal was coming thru the window on his side. He would feel it touch him with it's tongue or snout, and let out this squeal as he was trying to roll up the window.
I can hardly even type right, I am still laughing so hard, just thinking about it.   He just looked over at me and reminded me it was not very nice to be laughing at him and asking me to promise I would not share this with all of you; I refused to make that promise because I feel that all of you need to share in this laughter with me.
These pictures speak for themselves. If you are ever in the area, be sure to stop by Circle G Ranch! Your entire family will have a blast! Not only is it a drive-thru Safari, but they have a petting area, camel rides, and other fun things!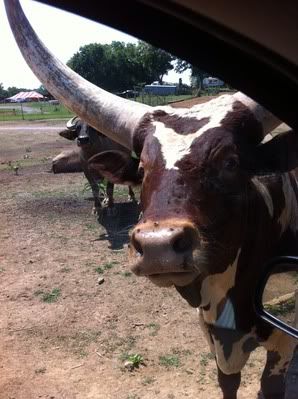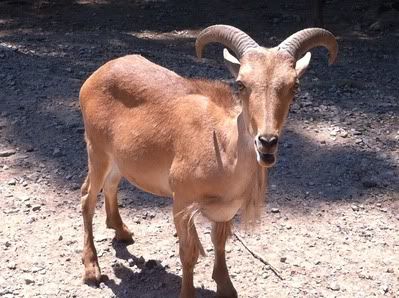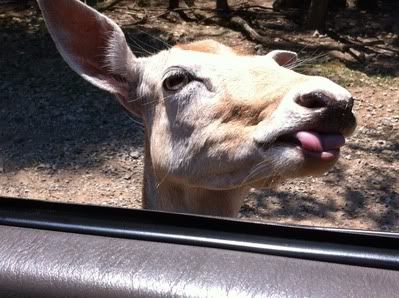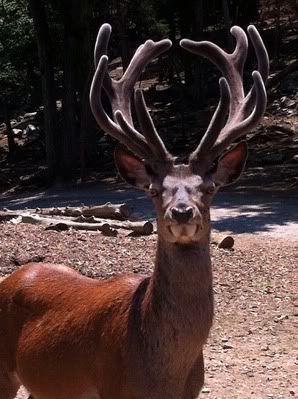 So here is the one that had me laughing until I was crying so hard, I could barely see. When Robert realized this GINORMOUS Black Angus was INSIDE his window, Robert was scrambling to try to get to my side of the car because it scared him so bad.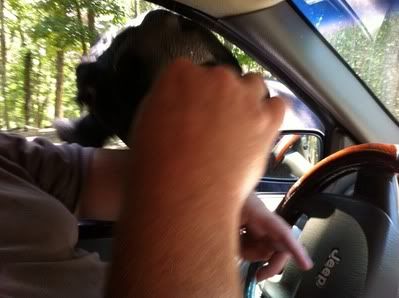 I started to realize that these animals must think my husband is as sweet as I think he is because they loved coming through his window at him.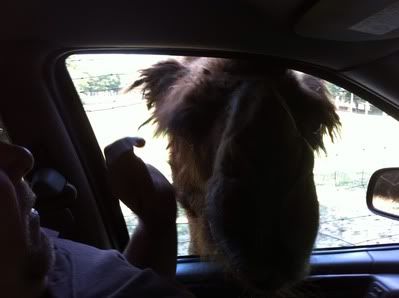 Want to have a Fun-Filled, Off The Beaten Path, Activity in the Smoky Mountains? Check out Circle G Ranch when you are visiting The Great Smoky Mountains!! Also, Check out Circle G Ranch on Facebook, too!