Robert and I started our day seeing the Country Jamboree Breakfast Show. I am the one that loves country music, Robert not so much. I knew he was going because he knew how excited I was about seeing it. By the end of the show, he loved it as much as I did and had a blast; THAT is how PHENOMENAL this show is in Pigeon Forge, TN!
If you have any love for country, gospel, and humor, then this is a MUST DO show for you!
Country Jamboree is located in the Hatfield and McCoy Theater right on the Parkway in Pigeon Forge, TN. Before the show begins, you are served a delicious breakfast of eggs, bacon, sausage, hashbrowns, and biscuit. The servers are exceptional and tend to all your needs.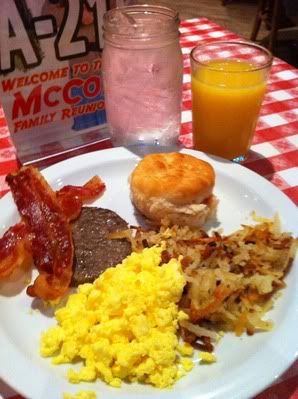 R.W. and Donna Blackwood come out before the show to introduce the history of the Blackwoods and tell about the past generations of The Blackwood Brother's  and how they have now evolved into The Blackwood Singers. You also are treated to film clips from the past on two huge screens that can be viewed from wherever you are sitting. Throughout the show, you can clearly see the stage from any seat but you can also see everything on the huge screens on either side. You won't miss a single thing in this show and you will be thankful you didn't!
I must have Hook, Line, and Sinker written on my forehead because when they told about buying the DVD and picture of the show and a 3 CD set of the songs, I just had to give Robert that look and he bought all of it for me. As I am typing up this review, I am listening to their music and thankful I have something to take home with me to remember the Show!
 The Blackwoods are the most award-winning performers in the Smokies with 5 All-American Awards, 27 Dove Awards, and 8 Grammy Awards. The Comedy Duo of Bob and Marty join in during the show for good, clean fun that will make laugh until you are in tears.
What I loved the most about the show was the camaraderie between  all the performers. You can tell there is a genuine friendship in their banter back and forth between the songs, and during the songs while they are performing.  Not only are they hilarious, they also are inspiring. Listening to their gospel songs brought me right back to sitting with my MeeMaw and PawPaw and listening to them sing along with their favorite gospel songs. As most of our fans know, our son is now a Marine so the Patriotic Tribute at the end brought tears to my eyes.
 When in Pigeon Forge, don't miss this OUTSTANDING, HILARIOUS, INSPIRING breakfast show! Be sure to check out Country Jamboree's  Facebook Page and Facebook Fan Page, too!
For more attractions and activities in Pigeon Forge, visit MyPigeonForge.com!
We were provided with our tickets from Pigeon Forge Department of Tourism to help facilitate our review. All opinions expressed in this post are our own.