If I had to pick one word to describe our dinner at J.T. Hannah's Kitchen in Pigeon Forge it would be delectable. Everything from our appetizer, to our soup and salads, to our entrée was savory and enticing us to come back again.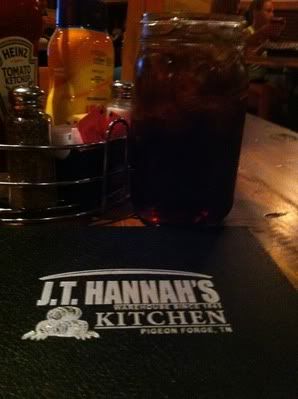 We arrived at 5:30 and were promptly seated. Old signs and memorabilia from the early 1900's were throughout the restaurant. The décor in the restaurant grabbed my attention quickly because I love learning about the history of people and places.
JT Hannah was a prosperous businessman in the Great Smoky Mountains, operating the largest freight Warehouse and Stockyards in East Tennessee. Arriving daily at the warehouse were barrels of the finest local beers & whiskey, the widest variety of the freshest produce farmed in the southeast, as well as the best livestock – cattle, hogs, and chickens. J.T. even had an exclusive contract to sort and distribute seafood and the finest Atlantic salmon in the territory. Being the largest business east of Knoxville meant J.T. also had the largest labor force. Folks came from far, remote areas and worked long hard hours through the week.

As was the custom back then, bunkhouses were put up to house the workers. J.T. soon added a lunchroom just off the old Icehouse building, hired the best cook around, and began serving delicious, home-cooked meals. He was also known to tap a barrel or two of his finest local brews.

With word quickly spreading about the hearty fare and bounty of beverages available at a reasonable cost, other folks began to come by the old warehouse looking for food and rest. Demands became so strong for the specialties coming from the kitchen of J.T.'s warehouse that he slowly closed down the storerooms and stockyards and opened his doors full-time to the public around 1930.
Drinks were served in Mason Jar Glasses which continued the nostalgic atmosphere. We first ordered a Sampler because we could not make up our minds from the extensive appetizer list. Cheese sticks, Chicken Tenders, Potato Skins, Nachos, and Quesadillas all arrived soon with plenty of dipping sauce. Everything we tasted was cooked to perfection.
Our house salads and soup came after our appetizers. Both were good, but the Broccoli and Cheddar soup was the best we have ever tasted. It was thick and hearty which is exactly how we like it. The broccoli was not in huge chunks but not diced to hardly anything left; it was perfect.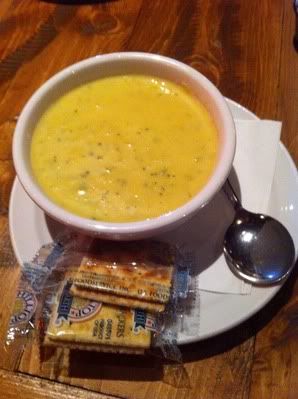 Robert and I both love Rib-eyes! I tried to talk him into ordering the Ribs, Chicken, or something from the Seafood section but after I ordered, he wanted the same thing! The Rib-eye was melt in your mouth good and the loaded baked potato was cooked perfect throughout.
Notice I keep using the word perfect. The entire meal was just that…perfect! The service was outstanding and I loved how the manager, Teresa, wandered through the restaurant several times checking on all the guests.
J.T. Hannah's Kitchen also serves burgers, specialty sandwiches, a variety of soups and salads, and even have a kid's menu! They also have a dessert menu but after our apps, salad, soup, and steaks, there was no room left! Be sure to check out everything J.T. Hannah's Kitchen in Pigeon Forge, TN has to offer!!
Be sure to take a moment and like J.T. Hannah's Kitchen's  Facebook page, too!
JT Hannah's Kitchen is definitely a restaurant I would recommend to anyone!
We received a complimentary meal to facilitate this review, however ALL opinions are the honest feedback of our personal experiences.